Massive wildfires have been ravaging Fort McMurray in Canada in recent days, forcing residents to flee their homes, many with their furry friends, mostly cats and dogs. Strict airline rules dictate that pet animals travelling by air should be kept in the cargo hold of the plane, the same dark dingy area that holds our luggage.
Under these stressful circumstances, Canadian North airlines took the extraordinary measure of bending their rules and allowing people to fly with their pets in the cabin area.
That's where Meow Meow, a beautiful short-haired tabby girl, comes in.
Meow Meow's mom was travelling fleeing the wildfires in a Canadian North airplane when she went into labor and delivered a baby.
Canadian North's airline staff at Edmonton International Airport (YEG) ended up taking care of Meow Meow for a few days since her Mom had just had a baby and needed to be taken care of too.
Little did they know that Meow Meow had a secret talent. She brewed the best coffee!
Our #YEG Ops people love Meow Meow @Deputy6720. She makes great coffee. We'll definitely be sad to say goodbye :) pic.twitter.com/DDKzFPn9eb

— Canadian North ✈ (@CanadianNorth) May 6, 2016
The Canadian North staff got so addicted to Meow Meow's coffee, that they decided to hire her as a Coffee Barista with a Job Title of Purrfect Barista
Here's Meow Meow with her official Canadian North employee badge, complete with her own Photo ID card and Home base location (YEG).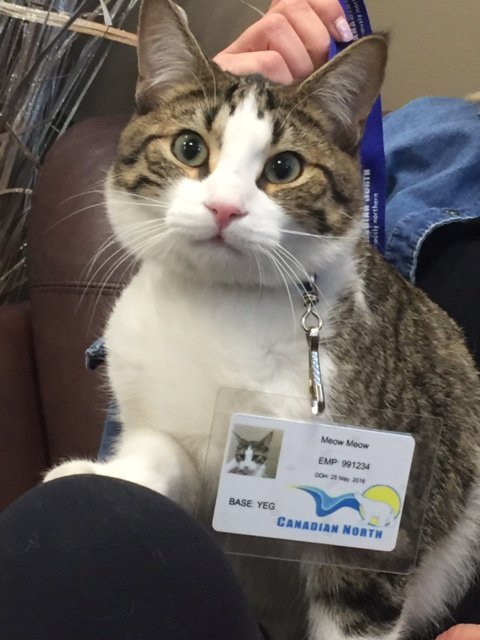 Last we heard, Starbucks was trying to poach Meow Meow with a bigger offer, but she turned it down! You are awesome Meow Meow.